Since you will spent a significant part of your life at work, we try to make it as pleasant as possible - so that you don't mind to work until late. We cannot compete with the U.S. west-coast internet companies, but we try to keep up. Hence all our offices have a nice view on the Mainz surroundings, we do our best that your workplace is not too crowded and we have some places to relax or read a paper. Additionally we have
a "lounge" for getting your brain free,
a meeting room for informal discussions,
and a nice and calm office at CERN, for those who are based there for some weeks or months.
Lounge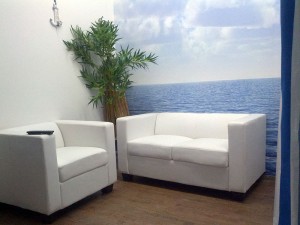 Since we didn't know what to do with the server-room next to our lab, we will rearrange it to a small lounge, including sofas, sandboxes, a play-station, a TV and kitchen facilities (including microwave, oven, fridge, coffee-machines, kettle etc.). We decided to go for a beach design, so that you even have holiday feeling in the winter times. This room is supposed to be used for
informal discussions,
relaxing,
calmly reading a paper,
or preparing lunch.
Meeting Room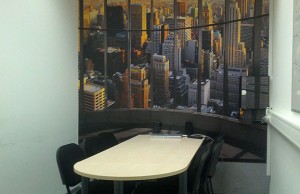 Until we use the additional room of our lab for long-term measurements of detectors, we decided to setup a small meetingroom with the design of a New York skyscraper office. We use it not only for internal group discussions, but also for our numerous video-meetings with our colleagues from all over the world.
Laboratory
Our lab hosts facilities to operate and test any kind of gas-based particle detectors with cosmic rays including the full readout chain. The core of the lab will be our cosmic ray calibration facility, which allows us to calibrate 3rd party detectors with dimensions of up to 2m x 2m with a spatial resolution of 100um in x- and y- direction.
Moreover, we have a x-ray source which allows us to test small prototype Micromegas detectors under high incident flux-rate conditions. The lab will be completed by a laminar flow-bench and a powerful microscope for the opening and inspection of our detectors.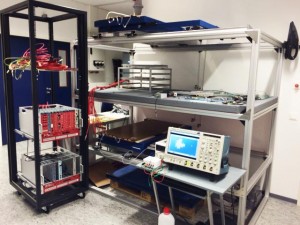 Our goal for the next years is to construct and commission large-scale Micromegas detectors and their electronics for the ATLAS Experiment upgrade project, as well as the development of new Micromegas layouts and operation designs for a wide range of possible applications.
As you see, we are just starting to built up our lab, so we have plenty of hardware projects for bachelor- and master-theses. Just pass by for further information.